2020年1月23日
Recruitment of local internal sales staff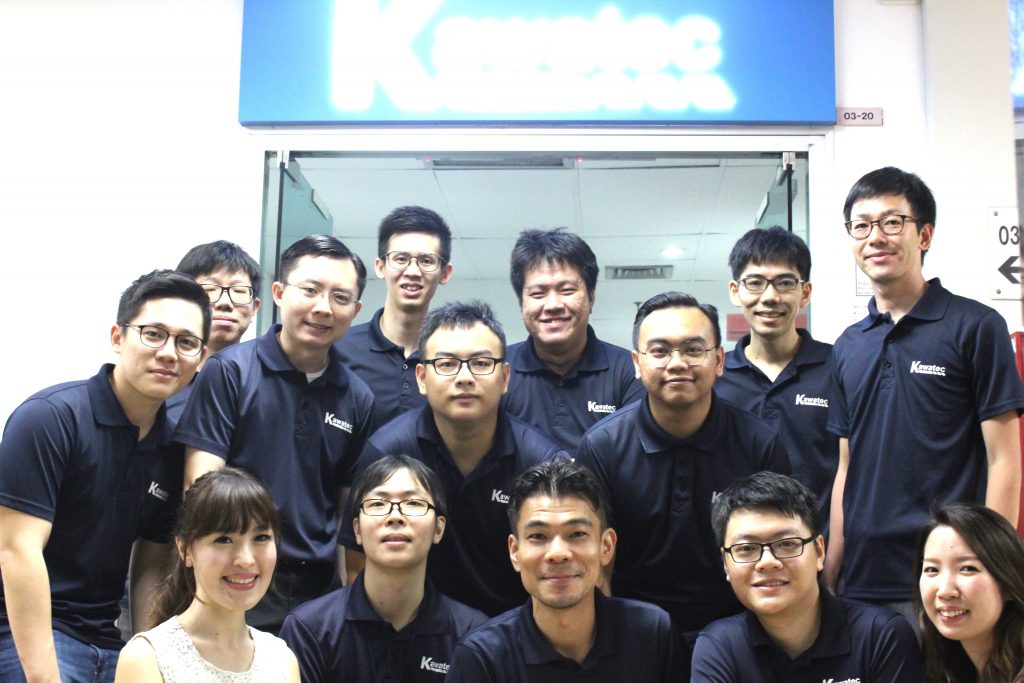 ◆ Recruitment of local internal sales staff◆
1) Recruitment overview
●Local internal sales position x 1 person (additional staff)
●Language :
English: Native English, most of the work will be spoken and written in English
Japanese : Japanese not required, but if you can speak Japanese, it will ease
communication with Japanese customers directly.
●Recruitment period: The recruitment period is from 20-January -2020 to 31-March-2020, not urgent.
●Recruitment is limited to Singaporeans or PR only.
●Internal sales experience in infrastructure in IT companies is preferred.
●Report destination: (Sales manager: Kawabe)
●Salary range: negotiable
●Applicable pass: Singaporean or PR only
●Eligibility: 24 to 40 years old
●Location: KAWATEC PTE LTD
Address: 420 North Bridge Road # 03-20 North Bridge Center (S) 188727
●Working hours: 9: 00-18: 00 (Monday-Friday) * basically there is no overtime.
●Off day: 2 days a week
●Paid Leave: 14 days / year
●Birthday month leave: 1 day / year
●Medical reimbursement: S $ 750 per year paid by the company. We also provide up to S $ 250 for dental treatment
●Sick leave: 14 days / year
●AWS
●Bonuses: Semi Bi- annually according to the company's operating profit performance and individual performance and evaluation
●Mobile phone: not provided (We provide phone communication allowance S$30/per month)
●Transportation expenses: Transportation expenses can reimburse claim accordingly.
●Job training: Yes
●Others are subject to our company rules.
Below is a summary of the talent we are currently looking for.
2)Tactical recruitment based on the "Behavioral guidelines'' below
Summary of ten behavioral guidelines for all staffs
1)Always smile
2)Cheerful greeting
3)Always thank people
4)Become an employee that is appreciated by customers and colleagues.
5)Create an easy-to-talk atmosphere in the workplace
6)Always show positive behavior and be aware of your body language
7)Create harmonious work environment
8)Honesty and Integrity
9)To Keep promised due date
10)To perform all operations through the PDCI cycle
3)Assignment of role of duties and work
Position: Internal Sales
Internal sales will handle most of the work in office . When inquiry is received from an existing or new customer, it is a to consult the customer's problem by telephone or e-mail, propose products and services that meet the customer's needs, and perform communication and negotiations until sales closing.
The specific tasks are the following from 1) to 20).
1)Responsible for consultation by telephone and email for sales enquiry from customers.
2)Responsible to prepare and propose quotation and follow-up quotation.
3)The scope of support that should be in the business is described in Kawatec's products and services list.
4)Register new recurring in our internal system to prepare quotation of renewal recurring and follow-up for quotation
5)Responsible to check and confirm item price with suppliers and check stock status with suppliers and process of purchase order to suppliers.
6)If using a carrier for delivery, the sales confirm the price with the carrier.
7)Request the confirmed job for project and spot and maintenance to the each of operation team.
8)Convert quotation to invoice, properly check invoice contents.
9)Response invoice inquiries by customer.
10)Update invoices from internal system to accounting system, print out it and give it to admin accounting
11)Follow-up outstanding payment to customer.
12)Prepare and send monthly installment invoicing.
13)Prepare payment to various portals using company credit card.
14)Create quotation template for repeating item.
15)Prepare sales materials such as proposal document for repeating product and service
16)Daily sales report to sales manager
17)Employees are expected to carry out all reasonable instructions of their Manager and managing director make every effort to assist his or her colleagues when the need arises.
18)Proactively find issues in the team, think about improvement, propose improvement to your manager.
19)When taking leave or MC, make sure to hand over the outstanding work properly.
20)Follow the task list and operation procedure and manual issued by the Company  for other operations.
4)What kind of person suitable for internal sales ?
●Has good PC skills and is good at email and telephone communication
you need make proposals only with communication by e-mail or telephone, so those who have PC skills and are good at communication by e-mail or telephone are suitable.
●To like listening to people
It is more suitable for those who can provide products and services to fulfill and meet customers' needs by listening to customers and understanding what is required.
●Have interest to "know more about IT products"
If you're not interested in the IT products or services you introduce, it's harder to get your customers interested. If you're interested in about the IT product or service, you probably are suitable  for internal sales.
5)List of Kawatec's products and services for year 2020
●IT maintenance support" using the following
●Setting up IT infrastructure environment " using the following
>Computer related
Computer and smartphone repair, support, upgrade
Computer sales, setup , maintenance
Data rescue service
>MFP related
MFP and printers for small offices
Copier machine for business
>Server related
Server sales and setup , maintenance
Network storage (NAS)
UPS sales, setup, maintenance
Server rack sales ,setup
>Network related
Network product (Firewall, Router , Switch , Access Point)sales, setup , maintenance
>Cloud related
Web and E-mail hosting sales, maintenance
Implementation of cloud service Office 365
Implementation of Azure
>Communication line related
Application and setting of Internet line
Application and setting of telephone line
>Other IT infrastructure
Business phone / IP phone
Door access system with time attendance
Security camera system
TV / Web conference system
Audio-visual system
Projector
LAN cable wiring work, telephone cable wiring work
6) The following three requirements are required for basic computer skills.
Skill 1) Familiar with Outook email (business communication is mostly email)
-Attach files to email
-Use of cc / bcc
-Include important information in the subject
-You need a level that Fast Keyboard Typing
Skill 2) You need a level that can quickly do the following with Excel.
-Creating tables
-Addition, subtraction, multiplication, division
-printing
-Prepare Report formatting
-sum function, average function
Skills 3) The following is required quickly in the word.
-Post photos
-Put a table
-Make text bigger
-Change color
-Create a table of contents
-Postcard size printing
——– Recruitment person in charge is following———
川辺 高峰(Kawabe Takao)
KAWATEC PTE LTD
420 North Bridge Road #03-20
North Bridge Centre (S) 188727
Mobile : 9835-0587
E-mail : kawabe@kawatec.com
Website : https://kawatec.com
———————————————————